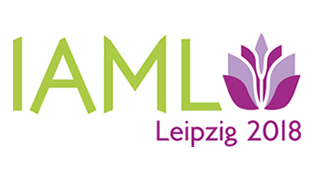 "Die Mischung machts; It's all in the mix" was an eminently suitable catch phrase for the IAML Leipzig 2018 Congress. IAML congresses always offer a very full and varied programme but the Leipzig week had so much on offer that I kept wishing for a time-turner to avoid having to choose between the many interesting presentations and fabulous library visits.
I went to the conference with some fixed commitments. My third working meeting as chair of the Advocacy committee has proved very satisfactory and I feel that the committee has since its inception gained momentum and enthusiasm, thanks to the participation from IAML members at various levels of experience and career stages. We defined clear objectives for the coming year and the medium term and I'm looking forward to continue building on our achievements, with the support of a very committed group.
Other fixed slots during the week related to the Service and Training subject section, where we ran sessions and round table discussions around the topics of information literacy, free online services and instruction, succession planning and advocacy, and music services at the Deutsche Zentralbücherei für Blinde. A selection of materials presented in these and other sessions is already available via the IAML webpages. It's also worth checking out the information literacy videos on the IAML New Zealand Facebook page.
My own personal mix was completed through attending a number of additional presentations on various topics (including Leipzig/Germany, music printing and publishing, digitisation and audiovisual collections…) and taking the opportunity to book onto every single library and music collection tour that would fit into the schedule.
I always find such visits immensely enjoyable and inspiring. Leipzig, through its magnificent musical history, has so much on offer. National library, University library, Hochschule, Public Library, Bach Archiv and Peters Publishing house each hold unique and distinctive collections of research and public interest. We were shown beautiful buildings and reading rooms, excellent examples of service provision, and rare and unique music items, all looked after with care and enthusiasm in well resourced libraries. Just a few random examples: reading rooms in the National Library are each in the individual style of the period they have been built, from Art Deco and GDR to 21st century; the University Library was absolutely buzzing, despite the heatwave and time of year; the Hochschule für Music und Theater has realised what I dreamed of as a former conservatoire librarian, a really user friendly system of searching for instrumentation in the library catalogue; the public library holds extensive research collections (and card catalogues!) alongside really cool audio booths for listening to borrowable audiovisual collections; the Bach Archiv not only has a great view from the reading room, it's a dream for Bach scholars and enthusiasts; Peters has lots and lots of sets of Mahler symphonies, annotated by various conductors…
In addition to feeling inspired and motivated to apply what I have seen and heard wherever possible and suitable, I came home with a range of (somewhat blurry) pictures that don't even start to do the collections and buildings justice, but if you would like a visual taster, do check out Flickr and IAML's instagram account.
AP